Directrice de la recherche à l'ESCE
Directrice de la recherche à l'ESCE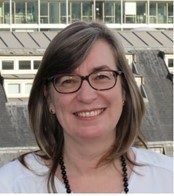 Kirsten Ralf
Director of Research & Associate Dean ESCE
Kirsten Ralf holds a double degree in mathematics and economics, a doctorate in Economics and a Habilitation from the University of Hamburg, Germany. Before joining ESCE in 2007, she held positions at the University of Hamburg, the University of Mainz, the American University of Paris, Ecole Supérieur de Gestion, and ESLSCA. She is a full professor of finance and head of the specialization Finance, Investment, and Banking. Her research interests include business cycle theory and economic fluctuations, panel data econometrics, monetary policy, and the history of economic thought.
She has published two books and a number of articles in well-known journals, such as the Journal of Economic Dynamics and Control, Macroeconomic Dynamics, the European Journal of the History of Economic Thought, and Revue Economiques.
From 2010 to 2014 she was member of the Supervisory Board of the German auditing and trust company FRITZ und MARK Revisions- und Treuhandgesellschaft AG.
She was named Director of Research and Associate Dean at ESCE in 2021.
Linkedin : Kirsten Ralf | LinkedIn