New format, new bridge between the schools of the OMNES Education Group. Two students from two schools interview live an alumni from a third school. Two looks at a career path and discoveries of professions! In a 30-minute format, students have the opportunity to learn about the background, experience and profession(s) of one of our alumni and interact with him/her.
THE REPLAY
Boris Gratini, graduate of INSEEC Grande École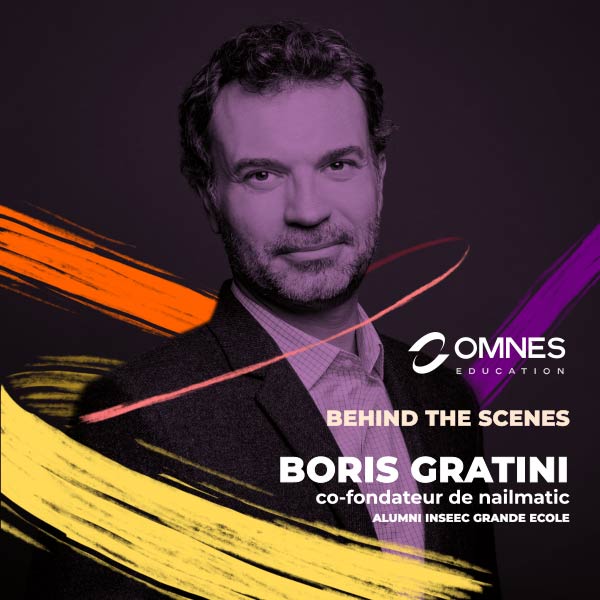 Boris Gratini, alumnus of INSEEC Grande Ecole, will be the guest of our students. In 1997, he started working as a cosmetics buyer for Printemps department stores. Based on this experience, he developed the Black Up brand, of which he will be the Associate Director. He continued his career as General Manager of By Terry, Deborah France to finally organize and manage the Gade Eden group which will distribute the brands of the Deborah group, as well as Biguine make up and the Hello Kitty license.

In 2012, he set up a consultancy and a collective composed of business creators, specialists and creatives in the fashion and beauty world. From these meetings, he founded with Lilian Monnier the brand made in France of nail polish nailmatic in 2013. Its launch officially takes place at Citadium in Paris with the inauguration of their very first automatic varnish dispenser. Since its creation, nailmatic has never stopped innovating, as shown by its cosmetic offer for children, its range of water-based nail polishes or the LAB kits for making customized nail polishes. Carbon footprint for each product, support for people with disabilities, formulations with a great ecological balance… nailmatic continues its responsible brand approach.

Now distributed in more than 40 countries and with its subsidiary in the USA since July 2017, the brand achieves more than 70% of its turnover from exports.
Updated 7 February 2022