Interview with Arnaud Saint-Hilaire Delmas, BBA INSEEC alumni
Marketing, medicine… What if these two sectors were more compatible than they seem? This is what Arnaud Saint-Hilaire Delmas, an alumnus of INSEEC in Bordeaux, has proven. After attempting to study medicine, Arnaud went on to study international marketing at INSEEC before returning to his first love: medicine!
From medicine to international marketing
Arnaud Saint-Hilaire Delmas' student career did not begin at INSEEC. After obtaining his baccalaureate, he first went to medical school. After 2 years, he decides to reconvert. But which way to go?
"I didn't have a clear idea of what I wanted to do. I went to fairs, I searched on the internet… and INSEEC really appealed to me. I was looking for a school where I could get straight into the subject and the international specialization attracted me a lot. I was also interested in marketing and business. So I decided to take the competitive exam and I was accepted!
Indeed, the BBA INSEEC has the particularity of being a program entirely focused on the international scene. It encourages internships around the world and offers an exchange semester in the third year.
"At INSEEC, I chose the BBA (Bachelor of Business Administration) in International marketing & communication. I really enjoyed my 4 years of study. When you enter medical school, you know you want to be a doctor, but at INSEEC I didn't know what to do yet. The common core in the first and second years helped me define my interests before specializing in international marketing, with courses in English," explains Arnaud.
An international course favored by an immersion in Australia
For his exchange semester abroad, Arnaud Saint-Hilaire Delmas wanted to be in total immersion. "You can't go any further than Australia!" he joked.
He also wanted a very good English-speaking university to discover a different way of working from France and for the personal challenge. The University of the Sunshine Coast in Australia was his first choice, which he got with flying colors!
The advantages of this university: a large campus based on the American model, a huge library, the construction of a personalized program thanks to the choice of subjects, virtual access to courses…and kangaroos!
"Yes, there were kangaroos on campus! Between the student residence and the university, I had to walk about a mile through a large field. A field populated with kangaroos! It's hard to be further away from France", Arnaud says.
If the pronounced Australian accent was at first complicated to tame for Arnaud, it made his ear work. Very useful today to work with people from different English-speaking countries!
The professional click
His second year internship took him to New York State, to an American winemaker, in homage to his Bordeaux roots. He worked on a family farm: Hermann J. Wiemer Vineyard, again in total English immersion. In addition to marketing, communication and sales, he also participated in the harvest! However, wine is not the professional field he is most passionate about.
His professional breakthrough came in his third year. "INSEEC regularly invited professionals to talk about their profession. I attended all these workshops because I didn't know what to do. It was meeting Sophie Cheylac that made me realize that I could still work in the medical sector, but from a marketing point of view. That's when I put all the odds in my favor to continue down this path."
In his third year, he started looking for his 6-month internship for the following year. He uses the INSEEC database to find former students working in the medical field.
It was there that he made contact with Pierre Jérôme, co-founder of SpineGuard, which markets PediGuard probes to make spinal surgery safer. The strong feeling of belonging to the school led Pierre Jérôme to transfer Arnaud's application to the marketing director (Patricia Lempereur), who offered him an internship.
Back in the medical sector
His 6-month internship at SpineGuard is going very well. So much so that he was offered a job! Arnaud accepts and stops his studies in Master 1.
"I was fortunate to have great responsibilities early on at SpineGuard. For example, I would go into the operating room as an expert to guide surgeons on the use of PediGuard probes," says Arnaud.
4 years later, in 2018, Arnaud Saint-Hilaire Delmas moved to Canada. He wanted a new professional challenge, this time abroad. He chose Quebec to keep a part of French culture. After arriving on a temporary visa, he applied for a number of medical companies until he was hired by Minogue Medical, a distributor of medical products.
After obtaining his visa, Arnaud started looking for new opportunities. That's how he joined Medtronic, a global leader in healthcare technology, in October 2021. A product manager position, similar to what he did at SpineGuard.
"One of the reasons I joined Medtronic is because the company's values and missions resonate so strongly with me. The reason I am so drawn to the medical world is to help patients and improve the healthcare system. Medtronic's missions have remained unchanged since 1960, the first being "To contribute to human well-being by applying biomedical engineering principles to the research, design, manufacture and distribution of devices that relieve pain, restore health and extend life, adds Arnaud.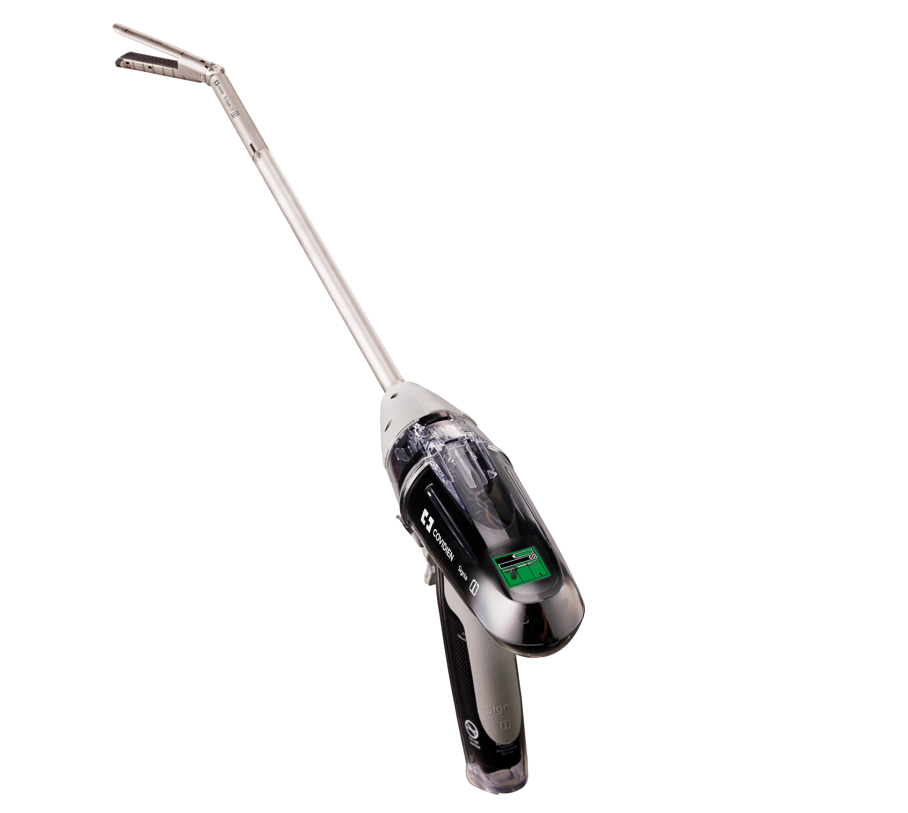 Surgical stapling, Arnaud's expertise at Medtronic
For the past 4 months at Medtronic, Arnaud Saint-Hilaire Delmas has been in charge of surgical stapling products: the Signia™ electronic stapling system, the Endo GIA™ curved tip loader with Tri-Staple™ technology or the EEA™ circular stapler with DST Series™ technology. They have different diameters to fit different thicknesses and some products are related to specific pathologies.
These are advanced technologies used for gastrointestinal or thoracic surgery, especially for cancer patients where it is necessary to remove part of the organ and close it with staples.
"Some of these devices are electronic, and it eliminates the need to apply force to the instrument. You just press a button and it automatically staples the organ. Too much stapling makes it harder to heal. With our surgical stapling products, we offer better quality stapling to maintain healthy tissue. They also promote minimally invasive surgeries." explains Arnaud.
Arnaud's role as Product Manager specialized in surgical stapling is to provide maximum information and support to the sales force. He promotes the use of new products to sales representatives and surgeons, gathering their needs and feedback to improve Medtronic products.
He hopes to return to the operating room soon to accompany salespeople and guide surgeons in the use of the stapling systems.
"We can still make it."
If he had one piece of advice for OMNES Education students, it would be this:
Use your school, its network and its tools. You arrive with a blank page in your hands, you must be the actor of your CV. If you have a clear idea in mind, make a plan based on the student's career path: internships, work-study, exchanges…
Ask yourself how to articulate your professional project around your studies. This will help you to have a rational resume. The goal is to tell a story in your interviews and your resume is the book!
If you don't know what to do for a job, like Arnaud when he arrived at the INSEEC BBA, don't panic. Take advantage of the workshops and professional meetings, even if they are optional, to refine your project and find out what you like and what you don't like. Be curious!
Updated 22 June 2022