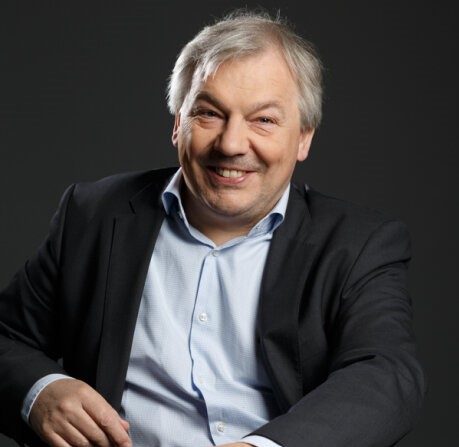 Frank Bostyn has a long track record in management and governance (a) at university level as dean, vice-dean, department head, member of the board and the management committee of the university, and (b) at other organizations, such as member of the Investment Committee of the Flemish Transformation and INnovation Acceleration Fund (TINA), board member of the National Delcredere Office.
He was the Founding Dean and Director General of NEOMA Business School with locations in Paris, Rouen and Reims. In 2013, Bostyn led Reims Management School and Rouen Business School through a successful merger process, which resulted in NEOMA Business School becoming the largest and one of the leading B-Schools in France. NEOMA Business School totals more than 10.000 students, and has about 150 faculty, 49 new members joined following the merger. The school is increasingly bilingual French-English.
Before joining NEOMA Business School, Bostyn served as deputy-chief of staff of the Flemish vice-minister-president and minister for Research and Innovation, and devised a new innovation strategy and new industrial policy for the region.
He is past Dean of the [University of Antwerp] Management School and holds the rank of professor of strategic management at the University of Antwerp.
Prior to that, Bostyn worked as a consultant and policy adviser focusing on transition economies, with major assignments in a.o. Ukraine, Uzbekistan, Poland, Kyrgyzstan, Romania. He was team leader of the Policy Advisor Unity for the reform of the agro-industrial complex, under the Vice-Prime Minister for Economic Reform in Ukraine [1994-97], International Co-ordinator of the Inter-Ministerial Commission for Agrarian Reform (IMCAR) [1997-1999].
He served also as Advisor social-economic policy, Cabinet of the Vice-Prime Minister Federal Government Belgium [1993]
He has extensive accreditation experience, having work with several national [NVAO, AAQ, Akkreditierung Austria] and international accreditation bodies [AACSB, EFMD]. Bostyn's engagement with AACSB International dates back to 2000, while preparing and leading the University of Antwerp through initial accreditation. He served on the Initial Accreditation Committee, as member, vice-chair, and chair; on the Accreditation Coordinating Committee; chaired many reviews and served as mentor to several schools, with a very broad country-exposure in Europe, North America, Asia, and Oceania as well as Africa. He served as elected Member of the AACSB Board [2017-2020].
Bostyn studied economics and philosophy at the University of Ghent (Belgium), management at the Wharton School (University of Pennsylvania) and macroeconomic policy and management at Harvard University, and holds master's degrees in economics and philosophy, a Wharton MBA and a PhD in economics.
Mis à jour le 3 février 2022