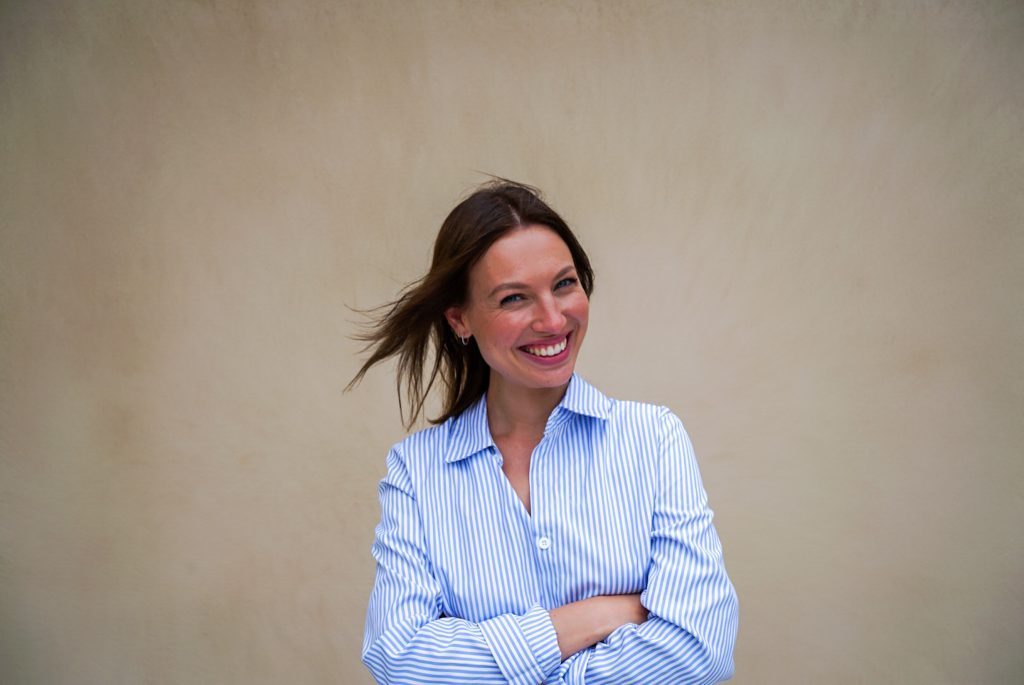 ALUMNA PORTRAIT
Bright and enthusiastic,Joy Souillart has made a career of her passion. First in the luxury sector, thanks to theInternational University of Monaco, and then by transitioning into coaching. Turning rough diamonds into precious gems and making them shine, that is Joy's calling!
From press to luxury
After a bachelor's in public relations, Joy pivoted to luxury management at the International University of Monaco in 2014.
"I initially intended to work in public relations but I didn't enjoy the environment at all when I did my bachelor's internship. However, I was passionate about cosmetics and luxury, which is why I decided to specialize in this sector. Studying luxury in Monaco made sense," she remembers..
Joy started her master's program in January rather than in October and didn't feel left out in the slightest. She met some amazing students and professors in her year. She also enjoyed the range of courses available. "I felt like I was finally in charge of my career,""she says.
From luxury to profusion
CHRISTIAN DIOR
For her master's internship, Joy was selected by Parfums Christian Dior. She then left Monaco for Paris. Her tasks were organized around instructional design for the retail travel market, especially in airports.

"My role was to adapt materials from the head office for Christian Dior boutiques in airports. The materials helped salespeople learn how to sell the brand's new products. Because airports have different client types, it was important to fine-tune the sales arguments,", she explains.
Joy likes working in the world of luxury, but what she likes above all is pedagogy and the training sector. And so she discovered a new passion: teaching.
After her internship, Dior offered her a fixed-term contract so that she could continue her work there.
Sunraysia Five Star Global
When that job at Christian Dior ended, Joy and her husband left Paris and set off for Australia. This trip in a van was only meant to last six months, but this French person wanted to become Australian!
"I found a business developer position at Sunraysia Five Star Globala brand of luxury fruit juices retailed in five star hotels. I supervised activities in several countries and visited a new place every other week! I discovered Bali, Dubai, Singapore, New-Zealand… The work helped me understand the luxury hotel sector better and to develop an international network. Unfortunately, I had to return to France when my Australian visa expired six months later," "says Joy.
She went back to Christian Dior, but this time, she was at head office. She no longer adapted instructional materials, she produced them. Despite taking on more responsibilities, she missed the sunshine and decided to return to her home in Nice.
Chanel
Thanks to her international experience and her language skills, Joy was hired as co-manager by her husband Møme. The objective was to organize his tour in the US. For more than a year, she met with affiliates to schedule concerts and supported him during the tour.
Back in France, she seized the opportunity of working at Chanel in Saint-Tropez. She was hired as head of client engagement.
"I represented the brand with our distributors (both major perfume houses and independent perfumers) in the French Riviera. I visited boutiques frequently to check merchandising, sales and implement point-of-sale events. I was delighted when a major brand like Chanel placed their trust in me after a year away from the luxury sector, "says Joy.
The crowning jewel
While she was working at Chanel, Joy started a training program to become an accredited professional coach at Coaching Ways France. "I'd been interested in coaching for years but hadn't quite dared to do this program after my master's. But now I felt ready," ", she says.
In March 2020, the pandemic and lockdowns made things harder at Chanel: how can you work if perfumers are shut? She saw this as a sign, so she decided to leave and set out as a career change coach.
"Coaching has been a great revelation for me. I feel that I can help people aim higher and really support them in their career change and personal development. I get up in the morning and I feel I'm doing something useful ", explains Joy.
Digging for gold
There were two reasons why Joy decided to call her company Goaldigger. The first was that the essence of coaching is to help the client dig deeper in setting their goal. The second was that she likes a good pun… According to Joy, her clients are rough diamonds that need polishing so that they can eventually discover their potential.
Her job is clear. She supports young executives in their career change to help them take stock and find ideas for new projects. She then guides them through their options and develops a personalized plan for them.

Rough diamonds to polish
In addition to her clients, Joy meets other rough diamonds, especially at the International University of Monaco.

"One day, I received an email about the career fair organized at IUM. I replied and explained that I would like to have a slot, as I provided career change coaching. We came up with something and I am now delighted to help students from my former university. I give recruitment advice to future graduates, help them with their résumés, personal statements and preparing interviews,says Joy.

Joy doesn't just provide recruitment advice, she also helps them ask the right questions to make the right choices and understand the sort of career they want. Supporting students before they climb the career ladder, get disenchanted and think about changing direction—that's what makes her tick.

She is fully aware that it's very difficult to know what you want as you leave your studies behind. Experience will help students understand what they do and don't like. Here's a tip:
'Joy SOUILLART'
'alumna IUM'
Updated 22 June 2022