OMNES Education (formerly INSEEC U.), the leading private operator of higher education in France with its 12 schools and 30,000 students, is continuing its development and has announced the opening of a new "state-of-the-art" campus in the center of the Esplanade de la Défense. After having announced to invest 100 million euros In its commitment to innovation and the conquest of new territories in the service of students, the group is increasing the geographical presence of its schools and will open a new campus in the Cœur Défense 2 building in September 2022. It will bring together three schools of the group: ESCE, HEIP-CEDS and IFG Executive Education. With this new location, OMNES Education will offer by 2023, with the expansion of the Lyon and Bordeaux campuses, more than 113,000 m² of real estate dedicated to education throughout France.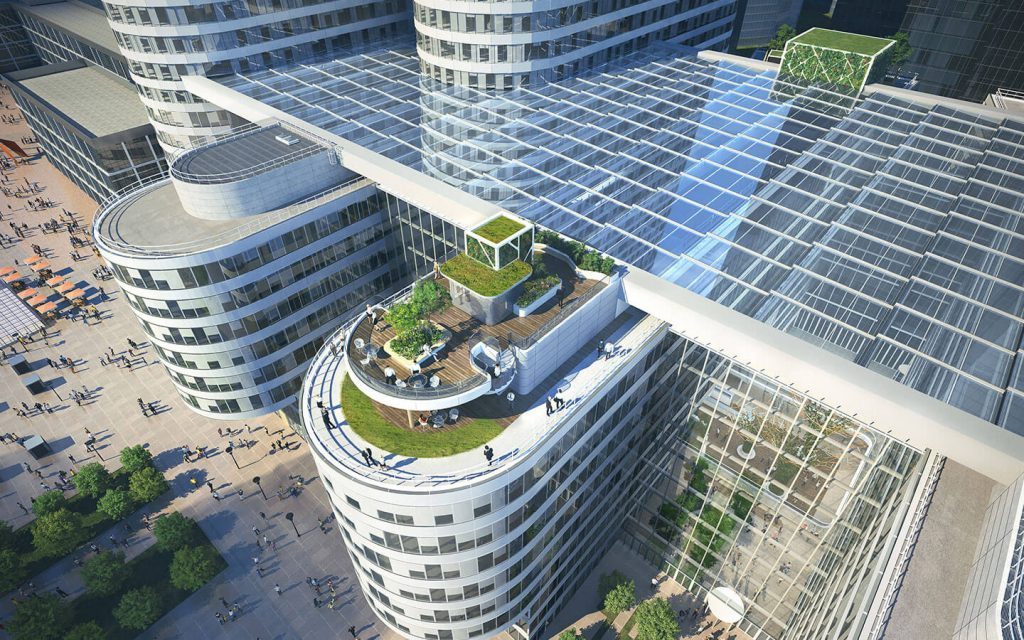 A multi and interdisciplinary campus, adapted to new ways of learning
OMNES Education brings together three of its schools, ESCE (Grande Ecole of International Business), HEIP (Hautes Études Internationales et Politiques created in 1899) and IFG Executive Education (a center dedicated to lifelong executive education) in a a unique location with a strong reputation, the Cœur Défense 2 building. This new campus will boost the openness of students and the interdisciplinarity of the curricula. This major step in the transformation of OMNES Education represents a response to the group's sustained growth and the emergence of new forms of pedagogy and technology.
The Campus Cœur Défense will offer a quality environment adapted to new ways of learning marked by digitalization, collaboration and interdisciplinarity between the schools' curricula. The time when the organization of spaces was limited to partitioned classrooms and lecture halls is over. Digitalization and collaboration between students encourage group work and the study of practical cases, stimulating innovation and interaction, which have become the norm for the Group and a reflection of its vision of education.
A place for student life and experiences
This independent building, exclusive to the three schools, is integrated into a complex of buildings with services. It will accommodate 3,500 students in a 13,500 m² building. The campus will offer technological infrastructures, a new architectural approach with connected, lively, flexible, spacious and, of course, comfortable and friendly work spaces:
400 m² dedicated to associations
A 200 m² start-up incubator
2700 m² of collaborative and relaxation spaces
A rooftop with trees on the 8th floor
Various room formats, adapted to each type of course, including an innovative classroom with the latest digital equipment (interactive screen allowing greater fluidity and creativity with the sending of lessons, exercises and corrections thanks to a simple QR Code)
A creativity center and several co-working spaces
Quality technological equipment
Nearby services: restaurants, shops, sports and cultural facilities, housing…
Ideally located 15 minutes from the center of Paris, this campus will benefit from the vitality and energy of France's largest business district, a source of multiple bridges between students and the 500 companies and major international groups present on site. This location reinforces the international and professional dimension of the three schools' programs. An environment that promotes employability, internship search, visibility and links with the business world. A district in permanent renewal and with a great mix of uses, La Défense is already home to 45,000 students who benefit from multiple services and facilities within easy reach.
Reflects the group's intensified pedagogical innovation
The purpose of the OMNES Education Group is to train and accompany all profiles to build their success through a real world pedagogy. This approach, which is common to all the group's schools, uses hybridization as a lever for efficiency through the following model:
Acculturation: in addition to the courses and subjects provided for in their school's curriculum, students will have access to a series of conferences and online masterclasses that will allow them to benefit from insights that will nourish their understanding of the world and to grasp the major issues.
Acquisition: starting in the 2022 school year, each student will have the opportunity to acquire knowledge from other schools in the group if it is not covered by his or her school.
Application: in parallel with learning, each student develops in a concrete and motivating way his or her ability to cooperate, to innovate, to make decisions, to engage in civic actions proposed by the group, notably with the PACT program in collaboration with the SOS Group, or by getting involved in projects that involve students from different schools.
Graduation / Certification: as they progress through the program, students have the opportunity to enhance their knowledge or related skills by obtaining certification through school certificates or additional titles.
Updated 23 February 2022